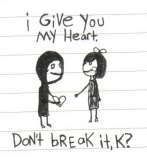 Tidak kira kepada sesiapa pun ,
samada my own family ,
Friends , Lover and whatever else .
Once I give you my ,
please don't break it ! Once you also
stoled my heart , please don't hurt me like
others did . So , I wish that
I could stay with my family , friends and my lover
FOREVER and everrrrrrrrrr .
P/S : Tiada istilah putus kawan kerana kawan selamanya kan ?
Kawan itu dan menjalinkan hubungan yang baik
adalah perlu kan antara sesama manusia ?
Sesungguhnya amat berdosa lagi-lagi apabila saudara sesama
Islam tidak bertegur sapa dalam tempoh
3 hari berturut :)